On July 14th, the "2020 High-tech Hydrogen Power Industry Summit (Shanghai), hosted by Gaogong Hydrogen Power and the Advanced Industry Research Institute, was held in the Royal Ballroom of the Radisson Blu Forest Manor, Shanghai Hongqiao. This summit brought together nearly 600 experts from the hydrogen fuel cell industry who, starting from cities focused on the development of FC vehicles, will collaborate throughout this accelerated period of hydrogen fuel cell core material and component localization. Deputy general manager of SinoHyKey Technology Dr. Tang Junke was invited by the conference organizer to deliver a keynote speech entitled "The Road to Commercialization of Domestic Membrane Electrodes", in which he shared SinoHyKey's experience in overcoming the three major issues related to membrane electrode assembly (MEA) industrialization and elaborated upon the component preparation and engineering verification processes in the autonomation of MEA production.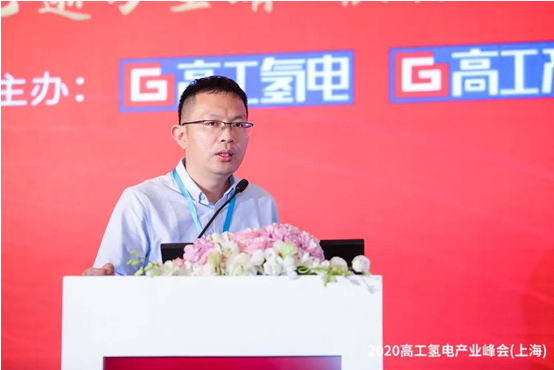 The MEA acts as the functional center, stress center, and technology integration hub of the fuel cell; it is responsible for electricity generation, multi-phase electrochemical-thermal coupling, and integration of at least twelve types of materials. As the core components of fuel cell stacks, membrane electrodes are the key to promoting fuel cell technology progress and accelerating fuel cell vehicle operation planning. Through the careful selection of MEA materials, as well as process design and equipment development, SinoHyKey product achieved performances of 1.25W/cm², and an initial BOL reversal of more than 120 minutes; in terms of cost, it has achieved large-scale, refined control over the production process.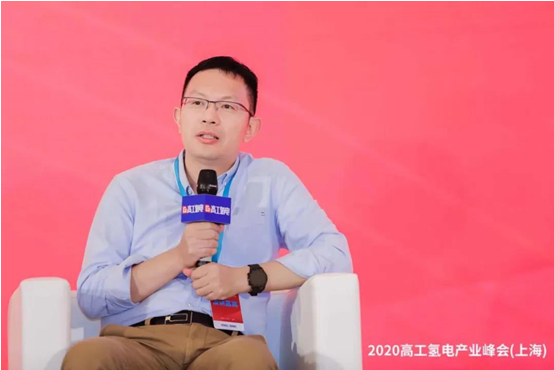 According to Dr. Tang, three important tasks for the future development of MEAs include:
Innovative research and development of new key materials; design and verification of MEA structures

Close cooperation with MEA, stack, and system manufacturers (forward development)

Development of highly compatible and efficient MEA processing technologies and equipment
In the next round-table dialogue session, Dr. Tang and seven senior leaders of hydrogen energy companies discussed three critical topics: the domestic breakthrough of hydrogen fuel cell core materials, the metal bipolar plate 'gate' and stack strategy, and hydrogen fuel cell core material technology improvement.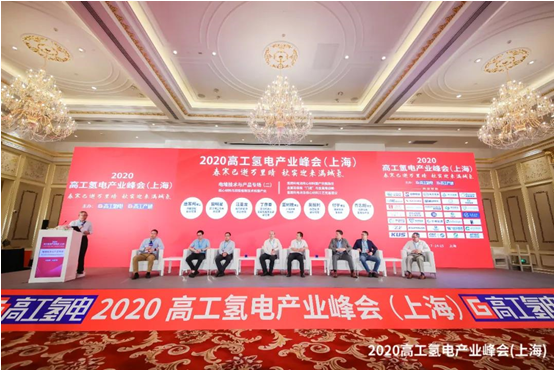 SinoHyKey Technology was established in December 2017 and is a representative enterprise introduced by the Guangzhou Development Zone. The company was the fastest to achieve assembly of an advanced MEA double-sided direct coating production line and has managed to obtain a substantial amount of batch orders, which has impressed the rest of the fuel cell industry.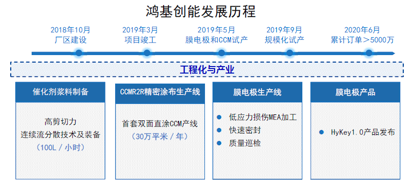 Through the selection and optimization of key materials such as catalysts, resins, and proton exchange membranes (PEMs), SinoHyKey products have become incredibly effective, durable, and economically viable. These excellent results are due largely to the company's remarkable technical team, consisting of academician Ye Siyu of the Canadian Academy of Engineering, Dr. Zou Yuquan, and Dr. Tang Junke as the core technical team, who have more than 20 years of experience in R&D and industrialization of fuel cell MEAs and stacks. Many core technicians have been in key positions as part of internationally renowned fuel cell companies.
After its establishment, SinoHyKey Technology has participated in the 2018 and 2019 key field research and development projects of the Guangdong Provincial Department of Science and Technology. At the same time, the company's core technical team was successfully selected as the Pearl River Talent Innovation and Entrepreneurship Team in Guangdong Province (2019).