Two hydrogen energy programs, led by SinoHyKey Technology Company, included as key projects of "Technology Boosts Economy 2020" by the National Energy Administration
A few days ago, the General Department of the National Energy Administration officially issued the "Announcement on the Key Special Projects 'Technology Boosts Economy 2020' to be Approved in the Energy Field". According to the selection principles of ensuring energy security, promoting industrial upgrades and supporting high-quality energy development, ten projects – including a multi-level virtual power plant platform, development of an adaptive gas turbine core component technology, and further research of high-performance fuel cell membrane electrode assemblies (MEA) with extended durability, as well as their applications in heavy-duty vehicles – were chosen to be included in this program. The project information is now available; please provide feedback and suggestion within seven working days from the date of publication.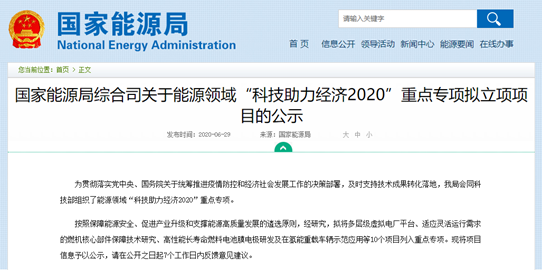 Among them, the Hydrogen Cloud Chain has learned that two of the ten applications are related to hydrogen energy, the topics of which are the aforementioned MEA R&D with applications in heavy-duty vehicles, and the Sanbei Area wind and solar base and hydrogen energy storage facility focusing on proportional coupling technology and industrial promotion.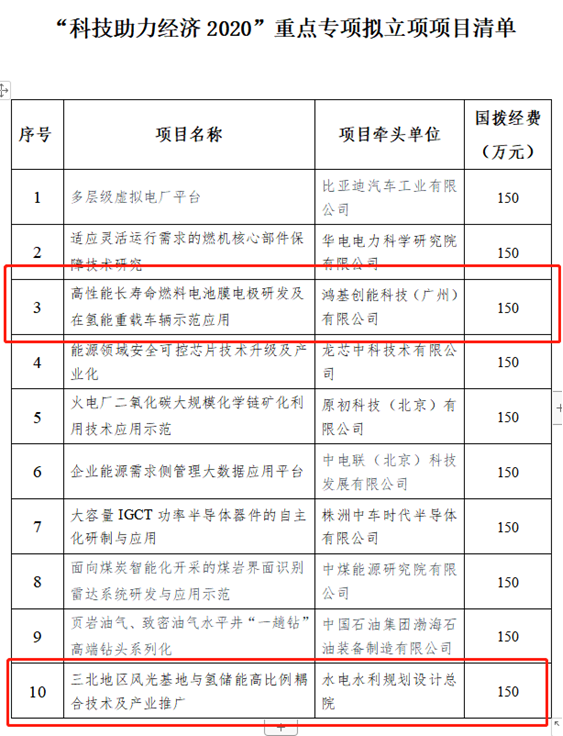 Research of high-performance hydrogen fuel cell MEA with extended durability and their applications in heavy-duty vehicles
This project is led by SinoHyKey Technology (Guangzhou) Company, Limited. The Hydrogen Cloud Chain learned from Dr. Zou Yuquan of SinoHyKey that the core aspect of this project is to develop the MEA for heavy-duty applications; Feichi Automobiles will provide their latest hydrogen-powered heavy-duty trucks for purposes of demonstration.
From public sources, the Hydrogen Cloud Chain can gather that SinoHyKey is committed to the large-scale localization and industrialization of high-performance MEAs for proton exchange membrane fuel cells (PEMFC), and strives to provide economical and effective fuel cell core components for domestic and international manufacturers.
Located in the Guangzhou Development District, the company is dependent on the core technical team, comprised of National Academy of Engineering of Canada member Dr. Ye Siyu, Dr. Zhou Yuquan, and Dr. Tang Junke, who have over twenty-five years of experience with R&D and fuel cell industrialization as part of internationally renowned companies. Their contributions and interests include setting up a hydrogen energy innovation centre and various academician workstations, promoting independent research and development of hydrogen fuel cell technology, developing low-platinum catalysts for fuel cells, producing hydrogen by electrolysing water, automotive R&D, and general innovation in key technologies.
At present, the research institute has launched a comprehensive partnership with the Guangdong Province Rare Metal Research Institute, Jinan University, Shanghai Jiao Tong University, Harbin Institute of Technology (Shenzhen Branch), and other organizations to collaboratively advance with hydrogen energy R&D.
Sanbei Area wind and solar bases and high-proportion coupling hydrogen energy storage and industrial promotion
This project is led by the General Institute of Hydropower and Water Resources Planning and Design; according to public information, they are an institution approved by the State Council to reform the electric power system in December 2002, and is a subsidiary of China Power Construction Corporation. It is the only public institution in China that undertakes the centralized management of hydropower, wind power, and solar photovoltaic power generation technologies.
Although hydrogen energy was, regretfully, not included in the government report this year, the Hydrogen Cloud Chain statistics show that fifteen documents regarding the field of hydrogen energy have been released this year, which indicates that hydrogen energy is still in a steady developmental stage.
Prior to this, the leaders of the relevant departments of the National Energy Administration inspected the fuel cell research and its technological results, including independent research and development of core materials, stacks and systems, hoping to fully promote the advancement of the industrial chain. There are also media reports on the industrial hydrogen fuel energy storage plan. The preparation of this content has recently been completed and it is likely to be reported to the State Council soon, with an expected release in 2020. In particular, the "Guiding Opinions on Energy Work for 2020" mentions the progression of the hydrogen energy industry, which seems to confirm the release of the plan this year.
Read More
1. The New Energy · New Power · New Future forum
On the evening of June 19th, 2020, "New Energy · New Power · New Future" and the Lingnan Science and Bay Area Innovation forum were held successfully at the Guangdong Centre of Science. SinoHyKey Technology (Guangzhou) Company Limited's vice chairman and chief technology officer, Dr Ye Siyu, was invited to this iteration of the forum.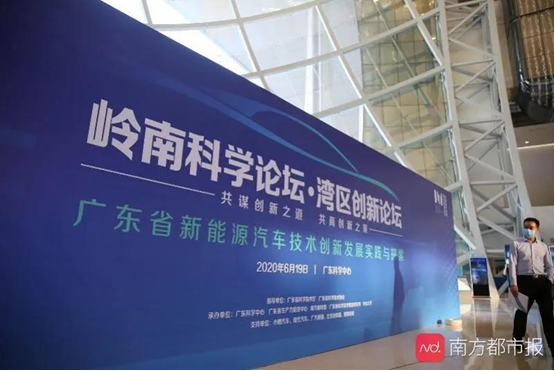 The central focus of this forum was the innovation and development of alternative energy vehicle technologies in Guangdong province. Through the publication and deciphering of research results and relevant policies, internationally recognized experts were invited to speak and discuss the path of progress for industrially critical technologies, as well as consult with attending representatives to provide countermeasures and suggestions for further promoting the advancement of Guangdong's alternative energy automobile industry.
Deputy Director Yang Jun of the Provincial Department of Science and Technology led with an introduction about the meaningful work that his department has carried out in the field since 2018, including the organization and implementation of two programs regarding alternative energy vehicle innovation that comprise twenty-six individual projects; moreover, the department has secured a provincial financial capital of 535 million yuan and a total investment exceeding two billion yuan. Some of these projects have yielded ground-breaking results, some of which were demonstrated at the forum. As one of the leading participants of the Provincial Science and Technology Department, SinoHyKey revealed their latest self-developed high performance and long-lasting membrane electrode assembly (MEA) products to the public.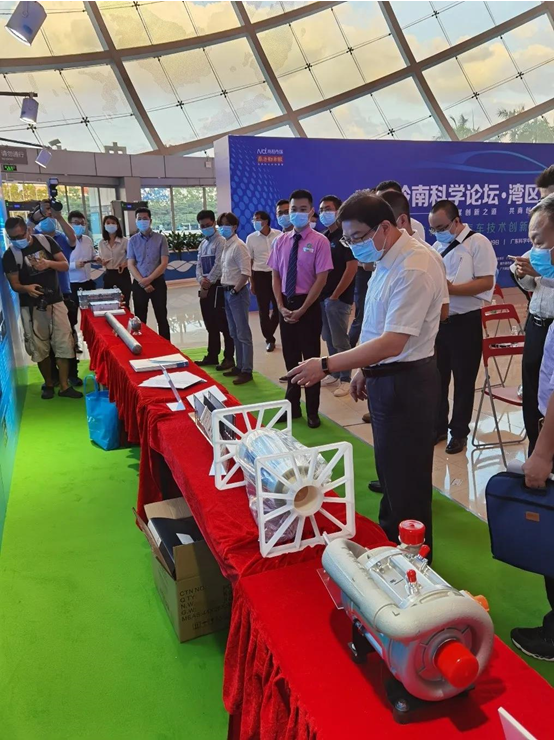 Deputy Director Yang Jun viewing SinoHyKey's MEA exhibits
2. Technological Innovation Dialogue
The Technological and Innovation Dialogue was largely centered on the development of Guangdong province's alternative energy vehicle technologies, with analysis of the domestic and foreign market situations and industrial trends. Participants exchanged various ideas about technologies such as intelligent driving, hydrogen energy, and propulsion batteries; in terms of policy, regulations on relevant topics like subsidies, technology, and the industry were also discussed. Some pertinent dialogue has been selected for the reader to peruse.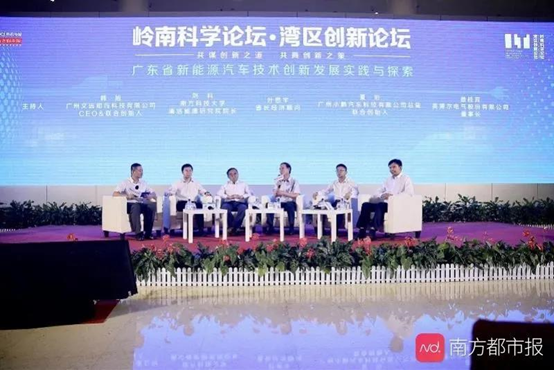 Moderator Tian Wenying, Section Chief of the Department of Industry-University Research Integration in the Guangdong Provincial Department of Science and Technology, raised questions to the Guangdong Provincial Governor Advisor and SinoHyKey CTO, Dr. Ye Siyu of the Canadian National Academy of Engineering:
Tian: How do you view the gap in fuel cell technology at home and abroad, and the impact of technologically leading companies such as Toyota, Hyundai, and Ballard on the autonomy of China's fuel cell development?
Ye: It is indeed true that the fuel cell technology of the developed countries represented by these three companies is more advanced than that of our nation, which can act to promote the construction of fuel cells in China. With that being said, one should not feel like this gap is very large; in fact, the progress Guangzhou has made in the field of fuel cells, especially in recent years, has been incredibly significant. He believes that it is necessary to continue with top-notch design, aim for the gap, and focus on the key core technology and material research that are involved with the development of fuel cells. Industrialization-oriented production, education, and research coupled with government support and positive feedback from consumers can narrow this gap as soon as possible; this will allow for high-performance, safe, and reliable fuel cell products to quickly become a part of thousands of households.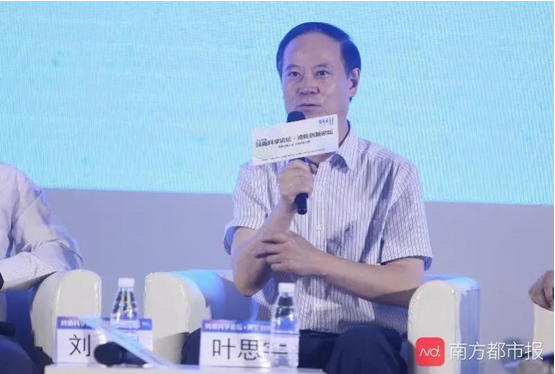 Following this, during the open question session, head of Dongguan Gonghe Electronics Liu Sizhi also raised questions to Dr. Ye:
Liu: How should we look at the prospective application of supercapacitors in hydrogen fuel cell and hybrid vehicles?
Ye: Supercapacitors, fuel cells, batteries and the like each have their own advantages. Everybody hopes that these technologies can complement each other, but the reality is often that they can be somewhat mutually exclusive. He also hopes that these technologies can merge with each other and improve upon their unique advantages – this is dependent on intelligent control to decide how to make the system better. Hopefully, true integration, as well as collaboration between the experts and scholars in these fields, can be achieved.
Through this forum, Guangdong province demonstrated to the country its determination to cultivate and develop alternative energy industries. It is imperative for traditional enterprises to quickly industrialize, and for Guangdong to occupy the commanding heights of the alternative energy industry in China, contributing to an accelerated economic transformation. The fuel cell is a cornerstone of the alternative energy industry, and the next order of business for the province is to support, guide, and establish partnerships between high-quality enterprises, universities, and R&D institutions such as SinoHyKey that actively participate in the development of this technology. With the market as a guide, the technological innovation system must move ahead with in-depth integration of industry, education, and research.
3. Company profile
SinoHyKey Technology Company is a well-known fuel cell membrane electrode assembly manufacturer based in Guangdong province. The company is committed to the industrialization and commercialization of high-performance catalyst-coated membrane (CCM) and membrane electrode assembly (MEA) for proton exchange membrane fuel cells (PEMFC). The company has participated in scientific research for key areas of Guangdong in 2018 and 2019, and as the only fuel cell company in the province, was selected as the innovation and entrepreneurship team project of the Pearl River Talent Plan in 2019. The next step for SinoHyKey is to work closely with universities and research institutes to develop a new generation of practical fuel cell products, thus combining manufacturing, education, and research to further improve current performance figures and optimize the preparation of CCMs and MEAs. At the same time, SinoHyKey will strengthen its close ties with up and downstream enterprises to conglomerate fuel cell industrialization experience in both heavy- and light-duty applications, ultimately accelerating the establishment of the fuel cell passenger vehicle.
Read More